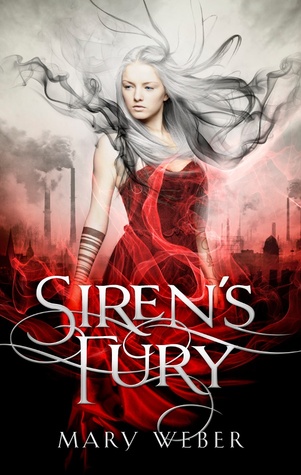 Title: Siren's Fury
Series: Storm Siren Trilogy #2
Author: Mary Weber
Published Date: June 2, 2015
Publisher: Thomas Nelson
Format: hardback
Pages: 352
ISBN: 9781401690373
Genre: fantasy
Rating: 3 stars
Synopsis:
"I thrust my hand toward the sky as my voice begs the Elemental inside me to waken and rise. But it's no use. The curse I've spent my entire life abhorring—the thing I trained so hard to control—no longer exists."
Nym has saved Faelen only to discover that Draewulf stole everything she valued. Now he's destroyed her Elemental storm-summoning ability as well.
When Nym sneaks off with a host of delegates to Bron, Lord Myles offers her the chance for a new kind of power and the whispered hope that it may do more than simply defeat the monster she loathes. But the secrets the Bron people have kept concealed, along with the horrors Draewulf has developed, may require more than simply harnessing a darker ability.
They may require who she is.
Set against the stark metallic backdrop of the Bron kingdom, Nym is faced with the chance to change the future.
Or was that Draewulf's plan for her all along?
My Review: I received a copy of this book in exchange for an honest review. I was very disappointed in this book. The previous book was incredible but this book was slow to get to the action. I found Nymia this time around to be angry, desperate, weak-willed, and rather pathetic. Once her Elemental powers were taken away from her, she became a sniveling, desperate, power-hungry woman who lashed out at everyone she encountered.
For half of the book, the action paced a snail… in molasses…. in February. Once the first half was done, the action picked up considerably, and I was actually happy to read the book. Still not happy with Nymia's attitude…no seriously, she needed an attitude adjustment.
It wasn't until the last 5 pages that Nymia finally learns her lesson: "I let out a dry chuckle—because isn't that the truth of it all right there. That who we are is not our abilities. Not really. It's more who we are in spite of them." But it's a very painful, slow lesson for the reader to have to go through, to watch Nymia be so pathetic because she lost her Elemental powers, she's not resilient enough to find her own inner strength.