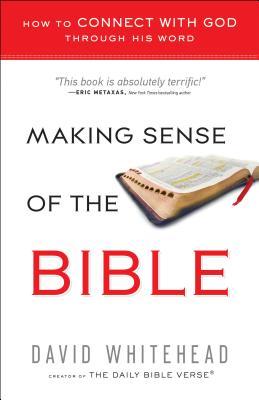 Title:
Making Sense of the Bible: How to Connect with God through His Word
Series:
none
Author:
David Whitehead
Published Date:
Aug 19, 2014
Publisher:
Bethany House
Format:
paperback
Pages:
176
ISBN
: 9780764212147
Genre:
Christianity
Add to:
Goodreads
Purchase:
Amazon
|
Christian Book Depository
Rating:
3 stars
Synopsis
: I Want to Read the Bible, but Where Do I Start?
The Bible can seem like an intimidating book, but it may be easier to understand than you think. "Making Sense of the Bible "will teach you how to enjoy studying it on your own.
David Whitehead has been helping people engage with the Bible for years, including through his popular website, The Daily Bible Verse. The Bible is an incredible gift from God to you, and this brief "user's manual" will teach you how to get the most out of it. Perfect for individual or group use, this book answers basic questions like how to know which Bible version is right for you, and from there introduces you to its stories, people, and major themes.
In the end, reading the Bible isn't just about knowledge, it's about connecting with the God who speaks through His Word. Let this engaging book help you hear what He wants to tell you.
My Review:
I received a copy of this book in exchange for an honest review.
This book is an excellent introduction to the Bible for new Christians or for those who have never read the Bible.This is only my first go round reading the Bible this year (beyond what I get from church every Sunday and what I got from Catholic school years ago), so some of it would have been helpful to me in the beginning of the year to become reaquainted with the Bible. It's very basic, so if you're beyond the basics, this book isn't for you. Things like why are there so many different translations, which may be right for you, and the pros and cons of each type of translation.
For someone like me, who has gone slightly beyond the basics, it was kind of boring, going over stuff that I already knew. There were some pearls hidden in there, however, that pulled this book out of boring drudgery. Overall, though, I was disappointed in it, as I didn't realise it was at such a beginner level.
I'm sure there have got to be better books out there for beginners, something that is a little more indepth.