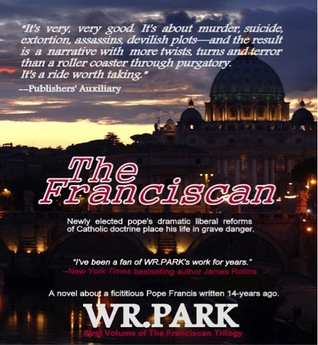 Title: The Franciscan
Series: The Franciscan Trilogy #1
Author: WR Park
Published Date: October 23, 2014
Publisher: Create Space
Format: paperback
Pages: 348
Genre: fiction
Rating: 2 stars
Synopsis:
"The pope is not infallible." When the newly elected Pope Francis utters this bold and unprecedented statement, he captures the attention of the world's population. His reforms leave no corner untouched as he strips away the mask so long held before the face of the papacy. Bringing with him and open-minded candor rarely seen by public figures – he's an inspiration to his followers – and a threat to those who oppose him.
"When I penned this novel about a fictitious Pope Francis fourteen years ago, I never envisioned that a future pope would select the name, Pope Francis I. This novel's Pope Francis is a bold and courageous pope whose sweeping reforms reversing ancient
Vatican
edicts place his life in grave danger. The world can only hope and pray that today's Pope Francis, as bold as he is, will be fruitful in his endeavors and have a lengthy and healthy reign," said WR.PARK.
My Review: I received a copy of this book in exchange for an honest review.
Let's start from the outside and work our way in. It is rare for me to say anything about the cover, but as soon as I got the book, it pleaded with me to say something. The entire cover needs to be redone. Get rid of all the quotes on the front cover, clean it up and it would look much better, keep it simple. Putting quotes on the front cover about how good the book is, doesn't make it better. Keep it to the inside jacket cover, please, if you absolutely need them.
Let's move onto the storyline. This is actually pretty good, and it is a similar plot to Dan Brown's Da Vinci Code , meaning, there's an archeologist, a pope and lots of intrigue running around Vatican City. At that point, the similarities end, entirely. The storyline action took probably up till perhaps a little past the halfway point in the book to really pick up in intensity and hook me to where I didn't focus on the problem I will underline below.
The problem that I have with the book is a very basic one: the author's writing style. All of the action, the entire plot is through the conversations. This leads to very two dimensional characters that seem to know everything and everybody, and very chatty scenes. This is definitely not my favorite method of getting the storyline across. This also leads to the fact that the storyline is in Vatican City, in the heart of Rome, and I still don't know what it looks like.
Overall, a rather frustrating read for me.