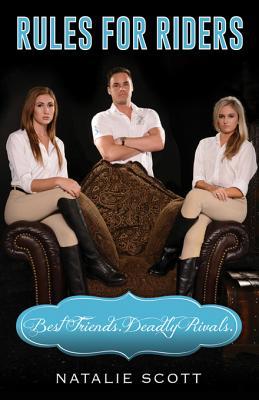 Title: Rules for Riders
Series: none
Author: Natalie Scott
Published Date: September 6,2014
Publisher: Perfect Bound Marketing
Format: paperback
Pages: 160
ISBN: 9781939614346
Genre: fiction
Rating: 4 stars
Synopsis:
After a near fatal riding accident, Bebe Barkley is banned from riding and sent off to boarding school. Finn Foxley, her roommate and partner in crime, devise a plan to get themselves kicked out of school, in order to return to the world they love.


Once back on the Equestrian circuit, best friends will become deadly rivals! Enter Billy O'Reilly, Bebe's handsome trainer, who will enforce 7 Rules that will turn Bebe's world up upside down forever.
My Review: I received a copy of this book in exchange for an honest review.
This book was a wonderful look into the world of prestige and show-horsemanship. Just as the world of horse-racing has its dark side, show horsemanship does as well. After a headstrong Bebe goes against her father's wishes and takes the not-quite broken horse, King out, she predictably suffers a horrendous accident which leaves her almost dead. Typically, her parents freak and send her off to boarding school. As a parent, I don't understand her parents' logic….my daughter has just suffered a near death tragedy, let's ship her off to where she won't be under our guidance. Makes no sense to me, but who am I to understand the overly-privileged?
So now, she meets up with another competitive horse rider, and they decide the only way they can get back into the circuit is to get kicked out of school. And it works wonders! They both manipulate their parents into letting them back into the showmanship circuit, thusly rewarding their bad behavior.
A tragedy once more ensues, and Bebe is thrown into a deep depression causing her to make some of the worst decisions of her life, but then what else is new? Bebe seems to be a spoiled little brat who is just so used to getting her way that she will do whatever it takes to get it, and when she finds herself in a situation way over her head, she turns to the one person she seems to dislike the most.
Overall, this is a great book, but I can't get past the privilege and snobbery that I see in Bebe and Finn. They seem to perpetuate their own problems.