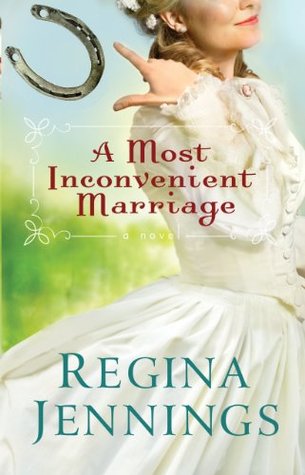 Title
: A Most Inconvenient Marriage
Series: none
Author: Regina Jennings
Published Date: December 2nd, 2014
Publisher: Bethany House
Format: paperback
Pages: 336
Genre: Historical romance
Rating: 4 stars
Synopsis
:
Having fled a difficult home life, Civil War nurse Abigail Stuart feels like her only friend in the world is sweet but gravely wounded patient Jeremiah Calhoun. Fearing he won't survive, the Confederate soldier's last wish is that Abigail look after his sickly sister at home. Marry him, return to his horse farm, and it'll be hers.
Left with few choices, Abigail takes him up on his offer and moves to
Missouri
after his death, but just as the family learns to accept her, the real Jeremiah Calhoun appears--puzzled to find a confounding woman posing as his wife. Jeremiah is determined to have his life back to how it was before the war, but his own wounds limit what he can do on his own. Still not fully convinced Abigail isn't duping him, he's left with no choice but to let the woman stay and help--not admitting to himself she may provide the healing his entire family needs.
My Review: I received a copy of this book in exchange for an honest review.
This book is a sweet, heartwarming romance set in post-Civil War time in the hills of Missouri. Abigail is a nurse in the Civil War, caring for a mortally wounded patient named Jeremiah Calhoun, when he proposes marriage to her in order to make sure his ill sister is taken care of after his demise. Seemingly, with no other options available to her, Abigail agrees, and they get married. He dies, and the story begins.
I've found Abigail to be full of spine, and I love that in a character. To live in the backwoods of any place, a woman has to be made of firmer stuff than lace and petticoats, and Abigail certainly lives up to the challenge without losing any of her femininity.
The real Jeremiah shows up, to the amazement and thanksgiving of his family and friends, but much to the confusion of Abigail who now doesn't know who she married, or where she should go. Will he kick her out; will she be on her own without her own family?
As the weeks progress with a shaky truce in front of them, Abigail and Jeremiah work side by side, the respect between them flourishing.
I've found this book to be very well-written and easy to read. The secondary characters are likeable enough, even if they do chew tobacco and smoke. The plot moves along at a nice clip, without any drags or hitches. The romance is sweet, and Jeremiah is as aggravating a male as you can find, but without many of the overbearing alpha tendencies.
Overall, a very good book to read if you are looking for historical romance.